ModMind is an interactive online program that creates focused, relaxed classrooms. It builds students' executive functioning skills and gives educators the tools to become mindfulness experts.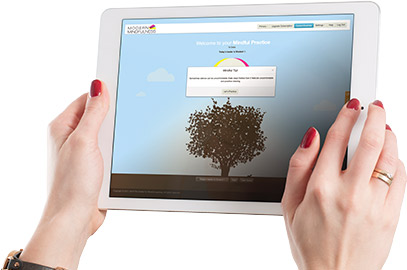 Designed in a public school, in collaboration with school teachers and their students, the app delivers effective classroom instruction in just five minutes a day.
"Your materials are stellar, your presentation was clear and concise, and teachers appreciated how hard you worked to make your mindfulness site a product that met their needs."
Mary Woodruff
Until educators are ready to teach mindfulness, the interactive curriculum does that for them. And in ten detailed lessons, it trains teachers how to lead mindfulness exercises.
"I love using the Computer Program. It is an easy and quick way to introduce our preschoolers to mindfulness. Having everything on the computer means that I can access it anytime I am planning and it doesn't have to cut into our limited time."
Rebecca Groberg
Consistency is the most accurate predictor of depth in practice. Our app helps classrooms practice daily so that students can experience deep states of focus and relaxation.
"One major unexpected benefit of the mindfulness work has been the opportunity to build trust and share personal insights and experiences that affect how we work together, but which would not otherwise come to the surface."
Samantha Stevens
ModMind has had a powerful impact in several Vermont schools with only five minutes of practice a day!